For the first time since new stringent air quality control measures were instituted in March of this year, Beijing has declared a Red Alert, immediately calling for odds/evens traffic restrictions, closures of factories and construction sites, and the shuttering of most schools for the next three days.
Under standards set in March of this year, a Red Alert is declared when the air quality is forecast to be over AQI 200 for three days or more. The city declared an Orange Alert at midnight last night, but upgraded the warning to Red at 6pm this evening, according to the Beijing News.
While Orange and Yellow alerts have been declared multiple times since the measures were enacted in 2013, this is the first time a Red Alert has been declared.
The most immediate effect of the Red Alert is the institution of odds/evens traffic controls on the roads, which will be enforced beginning at 7am Tuesday (Dec 8) and be in effect through noon on Thursday, Dec 10.
In addition to the mandatory restrictions, the measures call for "suggestions" such as the shuttering of preschools, primary schools, middle schools and high schools when red alerts are announced.
The Beijing Municipal Commission of Education issued a memorandum early Monday evening clarifying their position: all schools should stop classes Tuesday, Wednesday and Thursday. They stressed that learning should not cease during the period and educators should reach out to students to give them homework via social media channels and school websites.
However, the department also said that all schools should have staff on hand to take care of students who are unable to stay at home due to parental obligations during the work day.
The education department will be issuing official updates every day at 2pm on its website during the red alert.
Confusion reigned Monday evening as parents scrambled for news about whether their children's school would be in session Tuesday.
The vast majority of Beijing international schools reached for comment Monday evening indicated that they would close through the 10th, while a handful said they would remain in session.
Local schools reached for comment initially said school would be in session but later confirmed closures after receiving the education commission's directive.
Weather forecasts call for a cold front to roll in Thursday that will help lift the heavy veil of pollution.
Beijing's current air pollution warning system is an upgrade to a system initially devised in 2013, described in the chart below: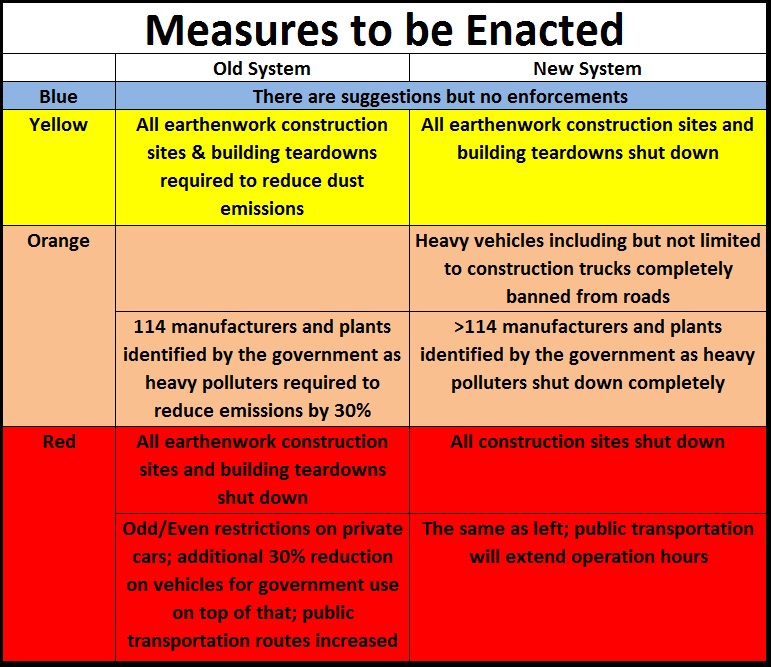 The city government issues the pollution alert via multiple channels, including TV, radio, newspapers, the internet, and text messages.
Red and orange alerts are supposed to be released 24 hours in advance of taking effect. However, air pollution forecasting is not an exact science, and there is some question about the willingness of the city government to declare such an alert due to the disruption it would cause to the city's transportation, education and economic systems.
Hindsight is 20-20 they say, and looking back the Ministry of Environmental Protection's official figures for 2015, there have already been three bouts of bad air that resulted in AQI readings over 200 for three or more consecutive days: Oct 5-7 (three days) Nov 12-15 (four days) and Nov 27-Dec 1 (five days).

If accurately forecasted, that would have meant Red Alerts twice last month alone and three times since the tighter regulations were put in place in March. None were declared.
Hitting over 200 for three days in a row is not exactly news, either: under the current system, Beijing would have technically been in Red Alert territory six times in 2014 (Jan 13-15, Feb 13-17, Feb 20-25, Mar 24-27, Oct 7-11, and Oct 18-20). If forecasted properly, that would have meant odds/evens plate restrictions and school and factory closures back then, too.
As to what happens next, that's anybody's guess – we're in uncharted territory here. Will drivers actually obey the odds and evens rules under such short notice? What happens if a freak wind comes up and blows the skies blue tomorrow – does all return to normal? What happens if the pollution forecast calls for more smog after Thursday – do we remain a city half-closed? Only time (and bureaucratic deliberations) will tell. Never a dull moment here in Beijing!
Save
Save
Save
Save