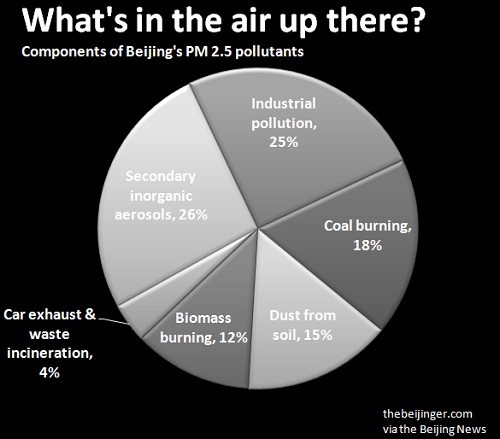 The five million car owners of Beijing breathed a sigh of relief this week as the Chinese Academy of Sciences reported that only 4% of the PM2.5 that clouds Beijing's skies are directly attributable to automotive emissions.
In an analysis of seasonal data released this week, the Chinese Academy of Sciences has taken a closer look at the gunk that clouds Beijing's skies (and our lungs) and discovered, to no one's surprise, that the burning of fossil fuels is the major culprit — but Beijing's fleet of over 5 million cars can continue to cruise relatively guilt-free as less than 4% of the filth is coming from their tailpipes.
Oddly, this is a massive downgrade of the original estimates the academy made earlier this year when it said approximately 20% of Beijing's bad air was due to automotive exhaust.
Academy scientists spread the blame between six major components: industrial pollutants (25%); coal burning (18%); dust (15%); biomass incineration (12%); car exhaust and garbage incineration (4%); and finally secondary inorganic aerosols (26%).
The academy did not further analyze the largest single component of the foul air — secondary inorganic aerosols – which are not primary sources of pollution but rather byproducts of photochemical reactions with primary emissions such as sulphur dioxide. Skeptics will wonder if this might not be a way to hide unpleasant realities.
No indication of how the scientists determined the source of the pollutants was given.
In perhaps the most depressing news for city residents, it seems that no matter what the city itself does, it's going to take a lot more to clear the air: Most of the pollutants are not originating from the city itself but rather from the surrounding Hebei Province, where much of Beijing's polluting industries have been moved in the recent past.
Source: The Beijing News (Chinese only)
Save
Save
Save
Save
Save
Save